This April Fool's Day sees the DVD release of Tim Burton's
Sweeney Todd: The Demon Barber of Fleet Street
(2007). This fabulously gory and stylish adaptation of Sondheim's classic 1979 musical made a blood-red splash in cinemas last Christmas and is now available in single- and double-disc sets. A good half-hour of the stage music (including all the material for the chorus) is cut, and the manic energy and sick, sick humor are downplayed into a quiet intensity more suitable for film. However, the essentials of the piece are preserved and enhanced by Burton's characteristic style, and this modern example of
Grand Guignol
is now the first goth musical! Johnny Depp, Helena Bonham-Carter, Alan Rickman and Sasha Baron-Cohen all make the most of their roles in this excellent version of the show they said could never be filmed.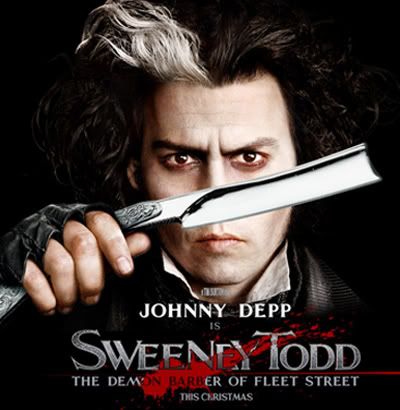 What is it with Depp, Burton, and hollow-eyed hairdressers?
But don't forget that the Los Angeles cast, starring Angela Lansbury, is on DVD as well! This 1982 video preserves the original production in all its gory glory, with George Hearn cutting throats as Sweeney and Lansbury grinning like a jack-o-lantern as Mrs. Lovett. Her Tony, Drama Desk
and
Emmy-winning performance is rightly considered a Broadway legend, and is a must-see for anyone whose mental image of her consists mostly of
Murder, She Wrote
. Highly,
highly
recommended. The original show is also represented on DVD by a concert version with Hearn and Patti LuPone, not to mention Neil Patrick Harris.
After the jump, clips from the various versions!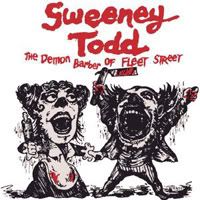 A non-musical version of the film starring the wonderfully-named Tod Slaughter is also available on DVD. It's worth remembering that Sweeney Todd is a venerable part of British urban legend. It's not known if he ever existed or not, but the tale of the demon barber and his maniacal meat-pie mistress has been a subject of show and story in the UK for about 150 years, and for nearly 50 years (until Sondheim's version came out) this was the best-known version of the tale. I've never seen it, but this British production from 1936 is reputed to be a wonderful little shocker. I intend to give it a spin someday.

The funniest song in the show has got to be "A Little Priest," in which Mrs. Lovett comes up with an economical solution for disposing of Sweeney's victims. Here's Angela Lansbury and George Hearn from the classic Los Angeles cast video.



Patti Lupone and Michael Cerveris in a medley from the 2006 Tonys, where "Sweeney Todd" won the Best Revival award. It's not on DVD but the cast album - in which the actors, sans orchestra, play all their own instruments! - is well worth hearing. The goth style of this revival - which took inspiration from "Marat/Sade" and presented the story as a tale told by inmates of an insane asylum - foreshadow's Burton's version.




Trailer for the 2007 film. They took care to downplay the musical aspect, alas.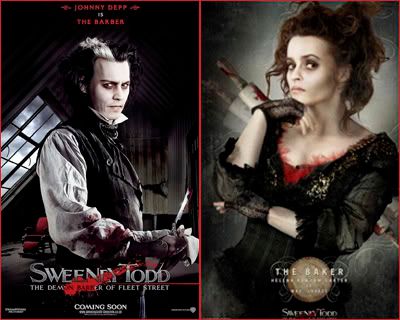 Burton's goth style suits Depp and Bonham-Carter to a "T"!